The upcoming seminar "Technology application in Deploying Consolidated Financial Statements: Practices & Solutions" is an event organized by FPT Smart Cloud to support businesses in consolidating financial statements.
Consolidated financial statements is an important basis in analyzing and orienting management strategy, business manufacturing operations. However, a lot of enterprises have faced difficulties in consolidating financial statements because of distributed data, transaction reconciliation, and error-prone manual internal debts.
In particular, the consolidation process is inconsistent and not systematic between subsidiaries and corporations. Therefore, it affects the time to complete the report and the accuracy of data for consolidated financial statements.
FPT Smart Cloud hosts a conference titled "Technology application in Deploying Consolidated Financial Statements: Practices & Solutions" to support businesses in solving this difficult issue. The event attracts the appearance of famous speakers including Mr. Nguyen The Phuong – CFO, Deputy General Director of FPT Corporation; Mr. Le Hong Viet – General Director of FPT Smart Cloud; Mr. Hoang Huu Chien – Chief Accountant of FPT Corporation.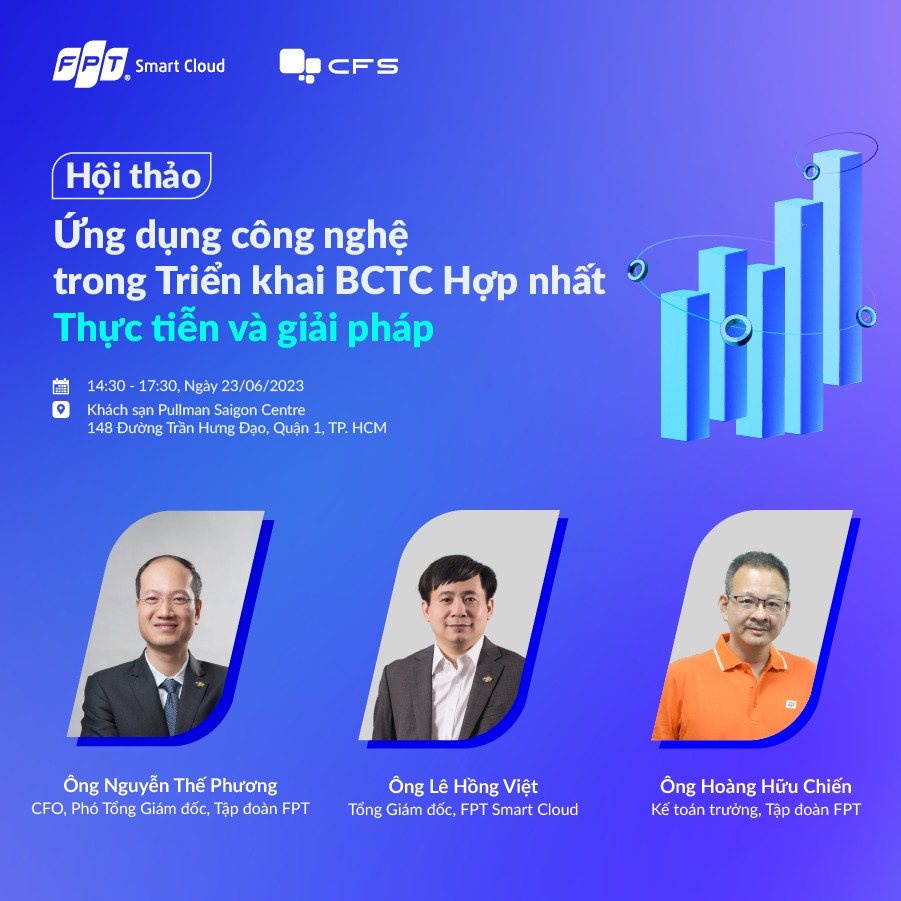 In the seminar, attendees will be updated with the trend of financial & accounting data management in enterprises by experts. This is also a chance to exchange practical experiences with leaders and managers from leading corporations in the financial field. Meanwhile, they can experience a comprehensive technology solution for consolidated financial statements, together with advanced artificial intelligence and cloud computing technologies. 
The conference also launched FPT CFS – a comprehensive accounting consolidation and close software solution, which standardlizes and automates the work of Consolidated Financial Statements in accordance with accounting standards, great accuracy and stability as well as ease of data retrieval and rendering.
The seminar dedicated to the financial directors, chief accountants, auditors with a limited number of attendees , is held at Pullman Saigon Center Hotel on the afternoon of June 23. FPT family members can register to join here.
FPT Smart Cloud is currently the leading provider of technology application solutions with a leading comprehensive Artificial Intelligence (AI) platform, 80+ Cloud Computing and Data services in the region.
S.T