Besides providing tens of thousands of chatbots for customers in the fields of Finance – Banking, Retail, Education…, "virtual assistants" are constantly created and applied at FPT Corporation's member companies. These "virtual assistants" contribute to building a positive, welcoming and engaged working environment for employees in the company. Let's take a look at FIVE special assistants who make use of FPT.AI's cutting-edge technology and knowledge base.
1. Maya – FPT's first virtual employee
Developed on the basis of FPT.AI Artificial Intelligence, Maya – FPT's first virtual employee officially worked at FPT Software's Human Resources Department from October 2022. 
Maya, known as Mây in Vietnamese, is created based on Artificial Intellegence (AI) technology and acts like a chatbot – virtual assistant. However, Maya has outstanding and different characteristics, which are created to suit the Employee Experience position at FPT Software's Human Resources Department. 
Maya is developed on the basis of FPT.AI. She can communicate well through Q&A and chat naturally. In addition, Maya is also applied Aritificial Intellegence (AI) for sending surveys/notifications, handling logical problems or analyzing comment content, identifying the difficulties encountered by the employees and putting forward solutions… The biggest difference is the interaction based on the emotional analysis. Maya has interesting and closse responses thanks to the inheritance and integration of FPT.AI's technology.
Maya is programmed with the female gender, who is 25 years old and has short hair styling. She is bilingual in both Vietnamese and English. She also has her own Workplace account and F people can chat along with exchange work with Maya through Workplace, Email…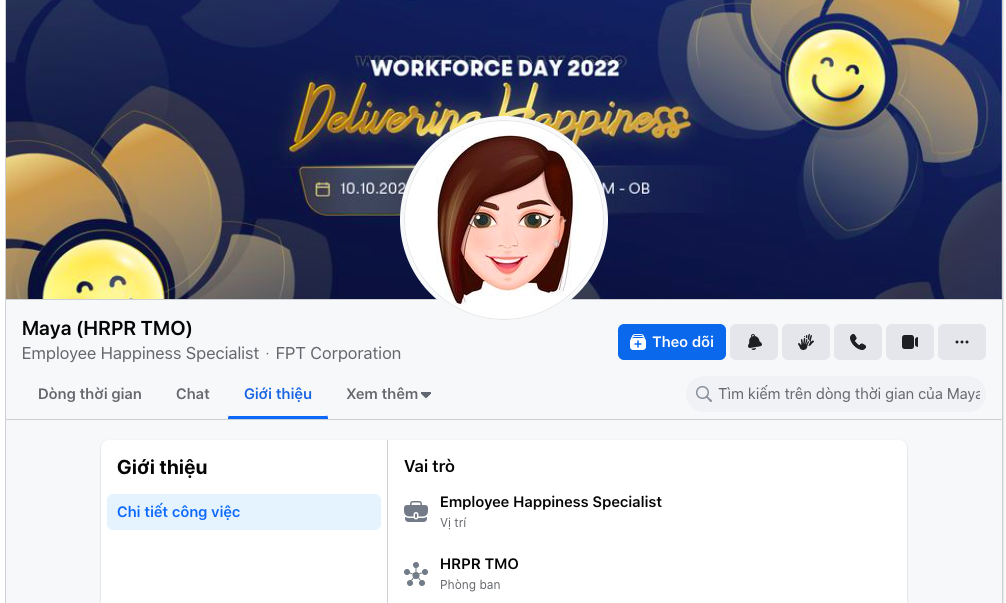 According to Mr. La Quang Vinh – Head of Digital Transformation and HR Data Analysis Department – Human Resources Department of FPT Software, "Unlike other chatbots, Maya has her personal identity, education, interests and interactive activities like an ordinary employee."
Aditionally, Maya is created to be an "emotional" virtual assistant. She was born as a virtual employee with the mission of building a happy, open and cohesive working environment. Maya has a humorous, friendly personality which inherits the highlights of FPT's culture and people.
At FPT Software, Maya is on her way to bring happiness to everyone, starting from accompanying employees from their first day at work. Maya will introduce new employees to the company, its departments and learn about their feelings through the working process.
When there is a new employee, Maya will actively send a welcome message on the first working day. Moreover, Maya also regularly inquires after employees periodically to promptly support the problems arising during working at the unit.
After two-week working, the interaction of employees has surged, in which the performance of the survey has increased a lot compared to the traditional form of sending email. Mr. La Quang Vinh said that this is a breakthrough in employee engagement. Maya will be a breath of fresh air in employee experience activities at FPT Software, helping them to have amazing and uniform experiences throughout the working journey at FPT. 
2. Windy – The "know-it-all" chatbot of the Administration Department
The idea stems from the context that many new employees don't understand the policies and information when they have just "got their feet wet"  into a new environment while the Office – Administration Division is always overloaded with too many repetitive questions and unable to respond to all. FPT has made use of its own AI  strengths to serve internal employees who are working in the company by launching Windy – the administration department's supportive chatbot. 
Besides assisting employees with administrative procedures, Windy can also chat with employees to help them relieve stress after work. In particular, smart Windy is able to give accurate suggestions about contact information of job leads, based on "catching intent" of problems encountered by employees.
Currently, Windy plays a part in solving more than 80% of the information needs and requests for support from FPT Smart Cloud employees, saving 4 man-days/month for the staff of the Administration Department.
3. FoxVoice – FTEL's special "virtual assistant"
FoxVoice is born to support looking up personal information of employees; functions and responsibilities of departments; cultural activities; movements of FPT Telecom as well as the Corporation on Foxpro app.
"Learning and understanding the company's culture and history may take weeks or even months" – some young employees of the "Fox" family shared. From November 1, the Employee Experience Administration department – FPT Telecome launched the FoxVoice application as a "virtual assistant" to help look up information and answer questions related to FPT Telecom for employees. The question topics vary from the field of personnel, training, corporate culture to looking up some available personal information (tax code, employee ID…)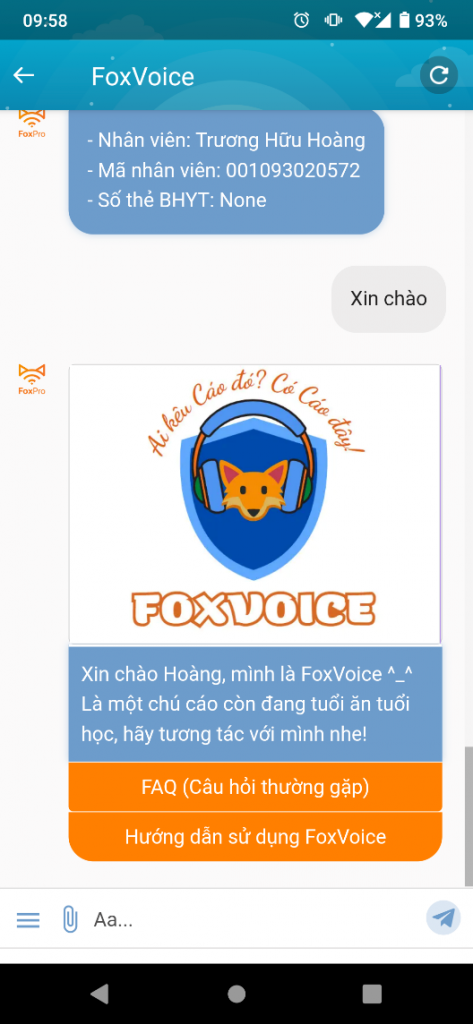 Currently, the project is implementing the first stage. This is the phase of testing and collecting users' opinions, thereby upgrading and completing the FoxVoice program. The testing time lasts from the beginning of November to the end of December in 2022. 
4. Pika – Talented employee of FPT Shop
On the fanpage of FPT Shop, there are thousands of customers needing advice on the company's digital products everyday. Previously, customers had to contact FPT Shop's consultants via hotline or send messages on Facebook. Whether this process is fast or slow depends on the fanpage manager. When the number of messages is too much, it is inevitable that employees miss some.
In fact, most customers' inquiries are quite similar, in which more than 70% of the information customers are interested in is available in reserve and answered automatically. Therefore, the customer service team of FPT Shop posed the question: "Why are there many things that can be replaced for humans but are not made use of to save costs?"
Working with FPT.AI, FPT Shop has prepared an obvious data set and process to train the chatbot in the most methodical way. Millions of data records from inventory, prices, images… to geographic coordinates, store locations, navigation systems… are connected to a common data warehouse so as to help chatbots assess information quickly and synchronously. 
Pika Chatbot is developed on the basis of a comprehensive Artificial Intellegence platform, applying the most advanced technology such as natural language processing, machine learning… Thanks to the natural language processing (NLP) technology, FPT.AI's chatbot has the best Vietnamese language recognition on the market. Therefore, Pika Chatbot can fully understand the customer's intentions, give directional and multi-pointed answers, or suggest the next question/answer in the same conversation flow. In addition, machine learning technology makes it easy for chatbots to "self-study" and update new knowledge, information every day. 
Moreover, Pika chatbot is created on FPT.AI Conversation, which is easily integrated on many widely-used chat platforms including Facebook Messenger, Zalo, Website…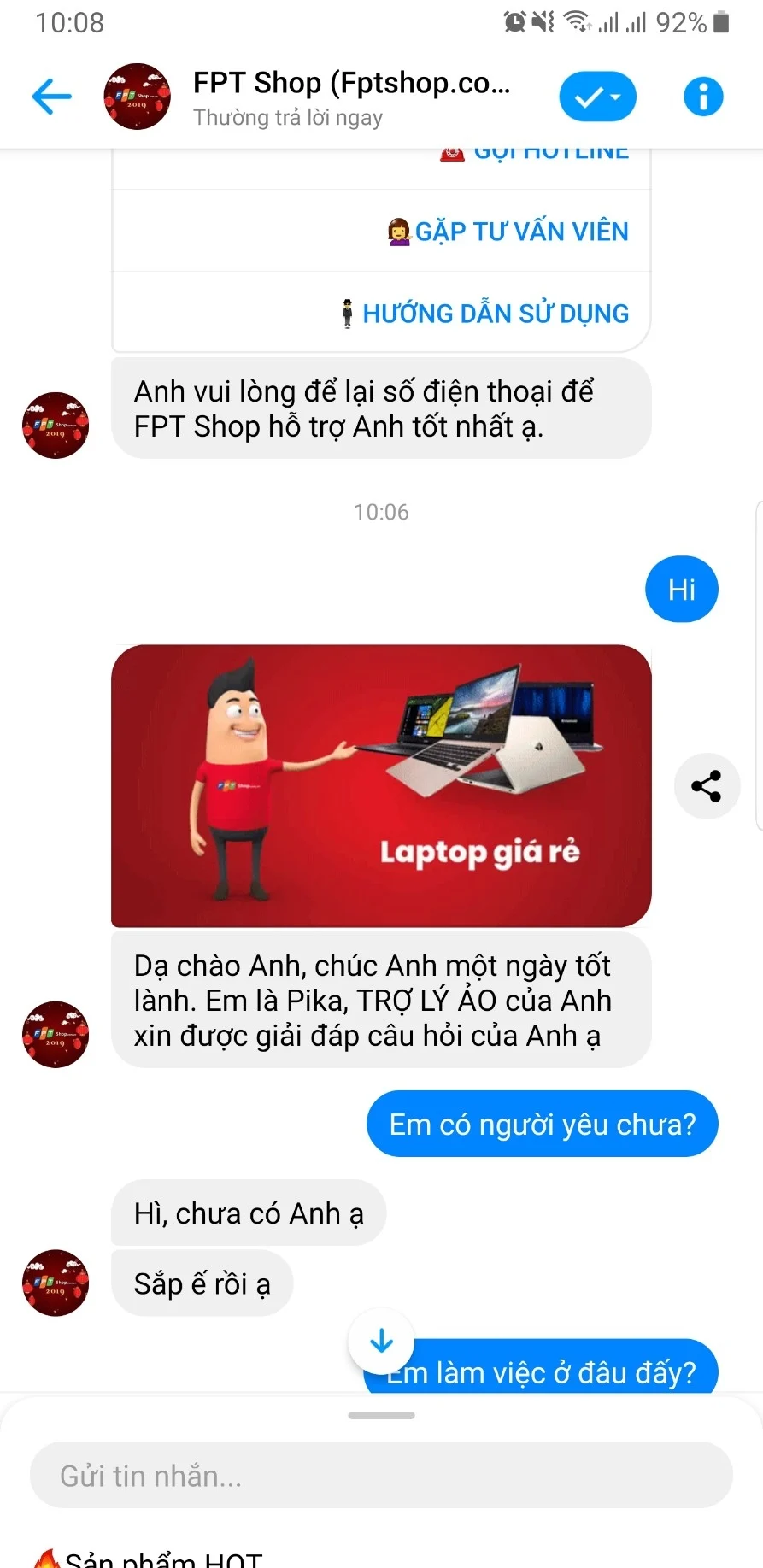 After a few months of implementation, the total number of customers who have interacted with the chatbor is 65.258. The number of questions the chatbot has handled is 272.789 questions. With processing speed from 2 to 3 seconds, Chatbot helps to cut 60% of work time. Pika Chatbot supports customers to order products on Facebook Messenger with the revenue up to more than 1 billion VND in 6 months.
After more than 1 year of putting the Pika chatbot into operation, FPT Shop has constituted certain achievements and brought many interesting experiences to users. Customers will receive essential information immediately by asking Pika chatbot via Messenger or Livechat on the website.
In the coming time, Pika chatbot will continue to be integrated with more advanced features in order to support FPT Shop to take care of its customers in the most dedicated and professional way.
5. BA Chan – Virtual assistant fluent in Japanese
BA Chan is a familiar virtual assistant of many FSOFTers when being "onsite" in Japan. With a total of 73.498 questions from FPT Software Japan employees, the chatbot system can automatically answer the questions related to many fields such as HR, AF, SSC, LDI, ISM, REC… along with the following features: 
Support for handling user questions

Reminders, notifications of events

Employee survey
Enhanced on the basis of FPT.AI with an advanced knowledge base and the most modern natural language processing technology, BA Chan supports users with Vietnamese and Japanese language: 
Vietnamese Version Go live 12/2020 with 1637 users, 67,343 questions in total.

Japanese Version Go live 4/2022 with 232 users, 6,155 questions in total.
After nearly a year of implementation, BA Chan has handled 73.498 questions from thousands of employees. According to the unit representatives, the chatbot application saves nearly 362 hours of effort per month, up to 6.124 hours in total, approximately 38 man-months and equivalent to 15.2 thousand USD.
In the fourth quarter of 2022, the company will continue to cooperate with FPT.AI to develop chatbot's new features and link with internal systems to diversif information. Meanwhile, BA Chan's document sets are standardized to expand and deploy chabots in many other countries.