The "Happy 3" initiative is created to honor the 3rd birthday of FPT Smart Cloud. A series of fascinating activities including Happy Hackathon, Happy Olympic, Happy Moments, Happy Party… will undoubtedly promote the festive atmosphere and exciting competition at FPT Smart Cloud.
The theme "Up Three, Happy Together" is the centerpiece of numerous activities held to mark the third anniversary of FPT Smart Cloud (FCI). These events aim to fulfill the goal that every employee's time working at F home would be spent happily and in accordance with their principles.
From now to August 13, every FPT Smart Cloud employee will experience the thrilling emulation environment by determining to complete the "imprints" on business activities, production, creativity… Meanwhile, before the anniversary, sports activities, imaginative programming, and thought-provoking games will be revealed successively, with a potential prize pool of hundreds of Vietnamese Dong.
1. "The imprint of FPT Smart Cloud" emulation
In this emulation program, each department in FPT Smart Cloud will register 1 imprint related to production, business, service products. with a potential prize pool of hundreds of Vietnamese Dong. The imprint must be associated with the professional activities of that department. This expresses the determination to overcome new difficult challenges and put out effort to achieve significant distinct goals, leading to the growth of FPT Smart Cloud. 
Regarding the prize, the units will receive a prize of 10 million VND/imprint if they achieve or exceed the registration level. The Board will take into account additional sub-criteria to award the Imprints that have not been attained but received considerable efforts from the members.
2. Happy Hackathon – A creative programming contest
With the philosophy of "Creation is the genetic code of FPT Smart Cloud people", Happy Hackathon is definitely an indispensable spiritual "dish" every August 13 every year. People from FCI are excited about this technological event in autumn.
Happy Hackathon 2023 will once again be hosted with the intention of helping FCI staff in developing innovative ideas, new apps, or new product features. Additionally, it seeks to improve the effectiveness of daily tasks by addressing existing problems. 
Besides, each FCIer is about to have memorable experiences when together working to complete their team's product and winning attractive prizes totalling up to 50 million VND in cash! Each member of the competition team that takes part in the Happy Hackathon has the exclusive benefit of receiving a unique present with the "Happy 3" imprint, which will be unveiled in the near future.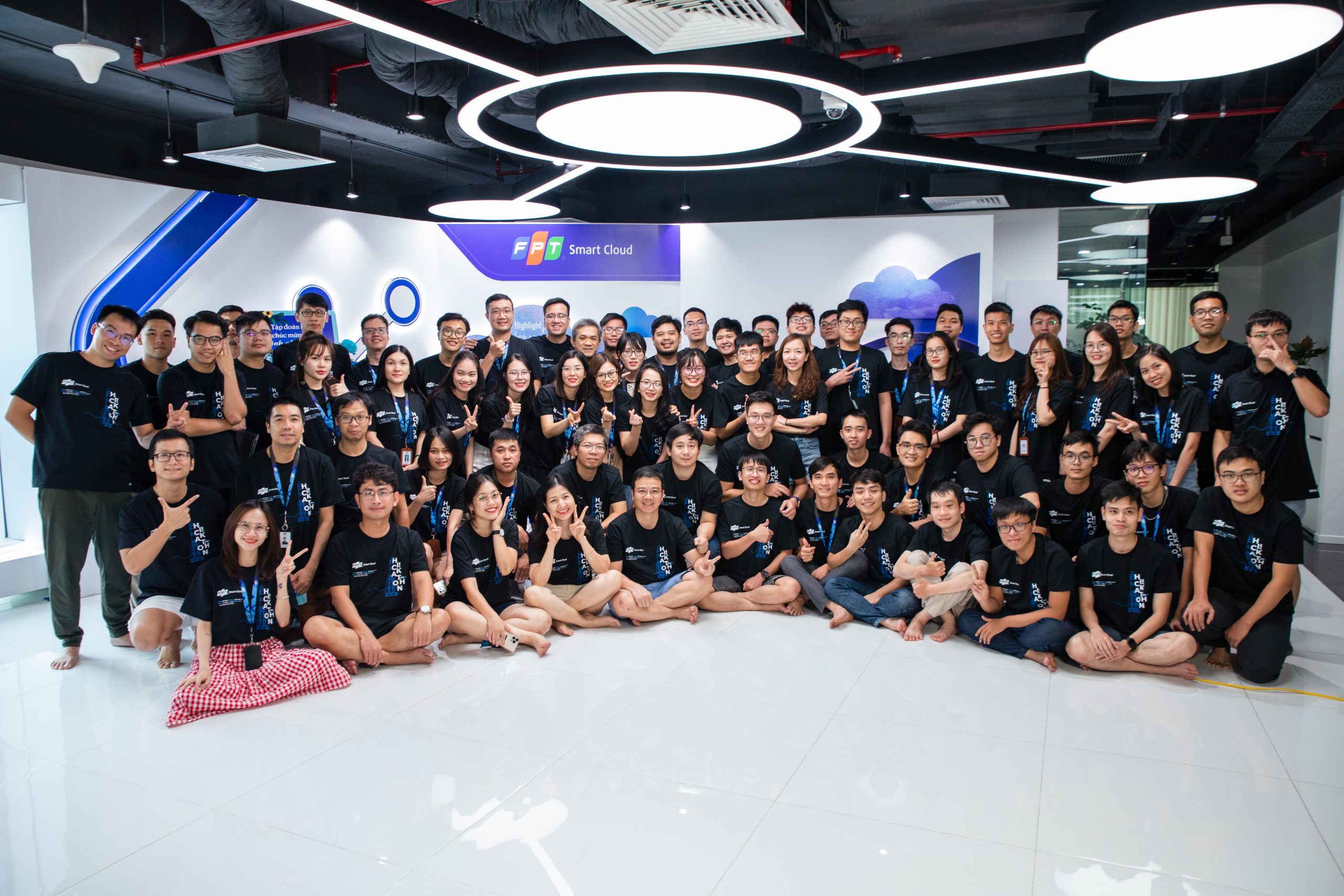 3. Happy Olympic – Autumn olympics
Beside the "FCI Happy Race" running throughout the year, Happy Olympic is an opportunity for FPT Smart Cloud people of all ages and genders to compete and train the physical health as well as endurance in 8 sports: Soccer, Table Tennis, Billiard, Pendulum, Arm Wrestling, Running, E-Sports (eFootball 2023, Counter-Strike).
The 2 consecutive weeks of athletic events will undoubtedly create a "hotter than the World Cup" atmosphere. Let's look forward to the Happy Olympic which will officially open for registration in the next few days! In order to crown new champions this season, there are numerous competitive categories, including singles, men's doubles, women's doubles, and mixed doubles. FCIers can seek a team from now on!
4. The Capturing of Happy Moments
To make "Happy 3" birthday a thrilling occasion, more than 300 FPT Smart Cloud people will together create a new look by updating their avatar with a very shimmering frame. On July 28, the frame template will be officially uploaded with detailed instructions to help FCIers frame and change photos on personal Facebook easily.
In addition to the simultaneous change of avatars, FCI people will participate in an attractive minigame. This is the first opportunity to collect the full set of lovely gifts from Dua Le (hats, notebooks, mouse pads…). Through this minigame, welcoming the brilliant age of 3 with many new achievements, FPT Smart Cloud's family wants to spread the message of happiness and energeticness.
5. Happy Party – Birthday candle blowing party
Finally and most importantly, in order that all FCIers in the North and South can attend and celebrate the proud milestone of FPT Smart Cloud, the birthday party will take place on August 11 rather than August 13 as yearly.
With the spirit "Up Three, Happy Together", the Happy 3 birthday party will summarize new age welcoming activities such as honoring the collective imprints, excellent individuals in emulation, sports, creativity… In particular, the final round of the Happy Hackathon will take place on this day, with a live competition of 13 best teams.
Every activity leading up to FPT Smart Cloud's birthday (13/08/2020 – 13/08/2023) is working towards the slogan "Up Three, Happy Together," which aims to bring people together in happiness. Let's share the values of happiness from now till the birthday on August 13 and make sure not to miss the upcoming thrilling activities!
Thao Chi