Smart virtual assistant applying Artificial Intelligence (AI) – Vietcombank Digibot associates with a great deal of utilities in the digital banking ecosystem, which willingly help Vietcombank offer the younger generation of customers exciting experiences.
Vietcombank updates the customer care channel by integrating the virtual assistant VCB Digibot
After the pandemic, major banks around the world accelerated the application of Artificial Intelligence (AI) to provide a variety of digital services without interruption to customers. Chatbot is the most popular technology solution today with two outstanding capabilities: personalizing customer interactions and optimizing customer care processes on multi-messaging platforms. Vietcombank, the leading commercial bank in Vietnam today, follows this pattern.
VCB Digibot, which is built and developed on an Artificial Intelligence (AI) platform of FPT Smart Cloud, has introduced a brand new method of interaction for customers. This helps customers in receiving prompt assistance through automating chat tasks on Facebook Messenger and livechat of Website. Two closest online channels are frequently used to know more about product and service information.
Smart virtual assistant VCB Digibot has been fully utilized to serve customers, especially young clients, and meet Gen Z's habits of approaching the financial market. According to the research conducted by NRF and IBM, 76% of Gen Z regard "response" as a measure of a business's "reputation" with customers. Virtual assistant VCB Digibot has launched an automated communication channel with instant support, multi-channel on both web version and mobile application, which meet the needs and behaviours of the young generation of customers. Thanks to the companion of VCB Digibot, Gen Z customers are able to self-service, solve their own problems, actively obtain information about the bank's products with the smoothest experience, thereby making decisions about using their services.
"I have just successfully opened an online account by following the guidance of virtual assistant VCB Digibot on Vietcombank website. The virtual assistant walked me through the process in great detail, using both pictures and videos to make things simple to follow." – Ms. Thao Nguyen, born in 2002, said. 
Besides guiding to  create an account, VCB Digibot is regarded as an online companion for customers who use Vietcombank's services for the first time with the User Manual. VCB Digibot can give immediate instructions on all details from signing up for services to setting up important features. Additionally, customers are constantly updated with the information about the latest promotions and offers. It also supports and gives advice on many common issues such as service lock, unlock or activation, service failure, PGD location lookup…
When suffering from complex problems that require support and detailed information, customers can easily have a direct connection with a consultant. Thanks to the easy transition from an AI Virtual Assistant to a human consultant, all customer's needs are satisfied by a seamless, unchallenging and convenient experience.
VCB Digibot are willing to conquer young customer generation 
Gen Z in Vietnam accounts for approximately 25% of the national workforce, equivalent to about 15 million people. By 2025, Gen Z will make up for one-third of Vietnam's working-age population. This is the subject gradually taking over the market in the next few years. Growing up in the age of technology, Gen Z has higher expectations for digital services such as 24/7 self-service and service, understanding and personalized service… These practical requirements are the driving force for Vietombank to continuously improve the service, product and customer experience quality. VCB Digibot is included in Vietcombank's digitalization strategy to expand its reach to young customers.
Designed and developed on the basis of FPT Artificial Intelligence (AI) belonging to FPT Smart Cloud, VCB is currently integrated with the greatest deal of advanced modern technologies such as Learning Machine and Neuro-linguistic programming. This helps VCB Digitbot Virtual Assistant to understand customer's intentions and issues, thereby giving obvious answers, expressing logically with clear and fluent language. In particular, in order to foster a sense of intimacy with young clients, VCB Digibot can understand some abbreviations as well as "teen code" and integrate into the conversation with Gen Z customers naturally in the right context.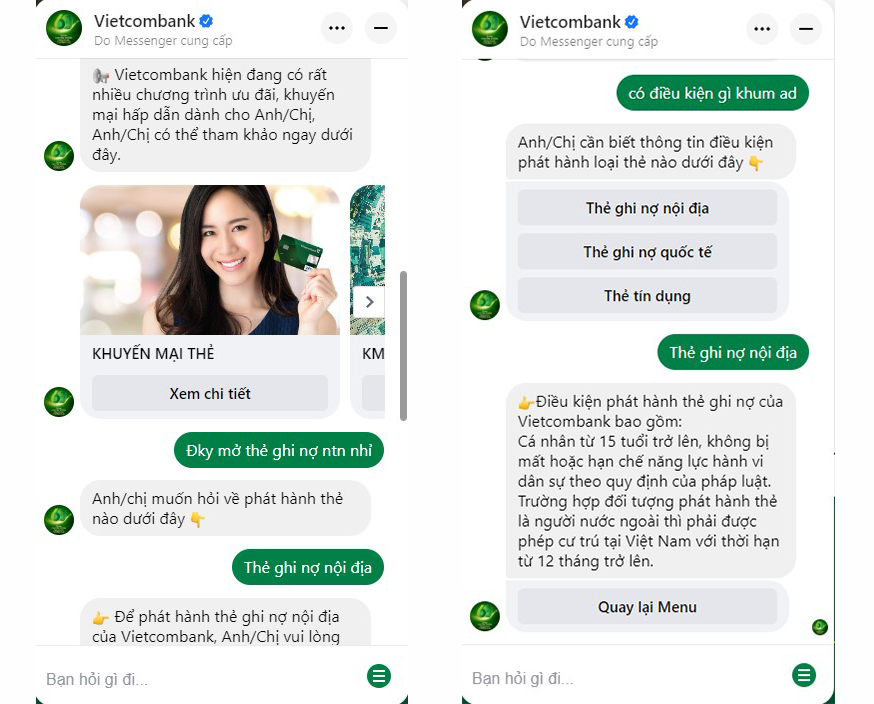 High-quality digital utility experience is one of the most crucial criteria that create customer's affection and loyalty to the brand. The strategy in technology application to enhance customer satisfaction is the launching pad for Vietcombank to readily conquer a new generation of customers with new needs, preferences and habits. Together with the advancement of AI, VCB Digibot Assistant will become more intelligent to support more customers in the near future.
Anh Duong