The Cloud platform is the place for storation, analysis and safety and security insurance, which plays a significant role in building digital data infrastructure. This is the viewpoint of Mr. Phan Hong Tam – Director of Cloud Technology of FPT Smart Cloud at Vietnam – Asia Digital Transformation Summit 2023.
FPT Smart Cloud representatives share numerous experiences and practical suggestions in creating a safe and secure digital data infrastructure on cloud computing platform.
Importance of data and data infrastructure
Nowadays, data has become a substantial resource in different aspects of life. According to a report published by Statista, the overall revenue scale of the global big data market is estimated at $77 billion by the end of 2023 and will reach $90 billion by 2025 with an average growth rate of about 14% each year. 
In expert's opinions, gathering data from different sources provides important knowledge for diverse fields, opening up the opportunities to improve productivity, economic growth and quality of life. To make dreams come true, data infrastructure is a crucial and indispensable factor.
Mr. Phan Hong Tam emphasized that digital infrastructure not only boosts the data economy, but also fosters the digital society and government development. "Building digital infrastructure will make information easily accessible, creating the development of a more intelligent, adaptable, and forward-thinking society", said Mr. Tam.
However, when it comes to value extraction from data, organizations today need to deal with many challenges such as data management, storage, integration and processing, security and privacy, skills and human resources, ethical issues and reliability. An expert from FPT Smart Cloud said that extracting value from data is not simply collecting and storing, but a complex and multi-dimensional process. "Building data infrastructure which is capable of data storation and process as well as safety and security insurance is very necessary to promote the digital transformation process and economic growth", said Cloud block manager of FPT Smart Cloud shared at the event.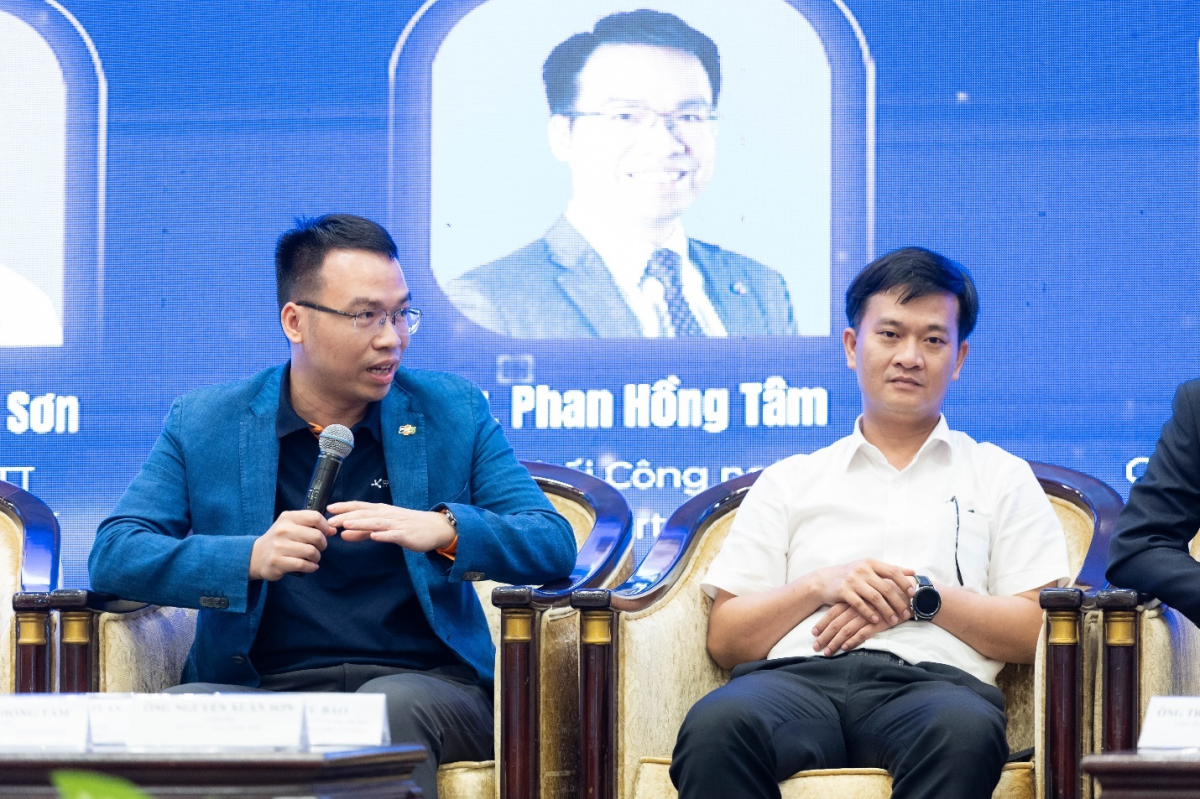 Solution to build data infrastructure on Cloud
At the event, Mr. Phan Hong Tam suggested that the data infrastructure must be designed to be flexible to meet the rapid growth of data in the digital age. Meanwhile, it is vital that this data infrastructure also comply with privacy and data security regulations, which ensures that personal and important information is under protection.
Data infrastructure is a complicated system with a great deal of components. Particularly, cloud computing infrastructure is the basis for large volumes of data storation and management. Servers are the place to process data. Large storage systems for multi-level storage are capable of providing strong and flexible connections in order to collect input data. 
For data protection, the cloud infrastructure is required to provide security services such as data encryption, access control, user authentication, and access management. This platform must ensure that data is protected from external threats and can only be accessed by the authorized. Besides, the use of common standards and protocols among different systems makes the data interaction and sharing more efficient. Data security and management standards also play a significant part in ensuring the consistency and safety of the data infrastructure. 
Mr. Tam gave an example of the FPT cloud computing platform as a solution to build the digital data infrastructure. FPT Cloud provides a series of cloud services, from storage and computation to databases and analytics tools, artificial intelligence (AI) usage in order to drive the data value and increase the business activities of enterprises. 
FPT's Cloud platform is set up with security infrastructure which satisfies the requirements about system design and information safety, stability and expansion readiness. This platform meets the leading safety and security criteria including PCIDSS, ISO 27017:27013. "We are constantly fulfilling the cloud computing service ecosystem, especially information security services, in order to protect from the infrastructure, network to applications, warning and monitoring. We are gradually realizing the mission of turning every Vietnamese business into a technology enterprise", affirmed the representative of FPT Smart Cloud.
S.T