The event of the Vietnam – Asia Digital Transformation Summit 2022 (Vietnam – ASIA DX Summit 2022) gathers together many technological capabilities, which highlight the comprehensive digital transformation ecosystem Made-by-FPT.
Digital transformation synergy
Vietnam Software and IT Services Association (VINASA) organizes Vietnam-ASIA DX Summit 2022 supported by the Ministry of Information and Communications on May 25-26. The theme of this event is "Digital Transformation Synergy for Digital Economy Development."
As a leading technology corporation in Vietnam, FPT Corporation understands the strength of intellectualism and resource link synergy. Thanks to the willingness to synergize, capacity and experience in consulting and implementing, FPT has become a strategic digital transformation partner of the Government over the years.
FPT has approached, signed strategic cooperation and trained to change digital transformation awareness with more than 40 provinces and cities out of 54 ones, which have issued Digital Transformation Resolutions or Programs. Especially, when accompanying provinces and cities, FPT has established 7 working groups: communication, training, youth, digital government, digital economy, digital society and cities, smart infrastructure. Understanding the specialties in different aspects of digital transformation creates the local resilience. 
FPT also successfully participates in a large number of digital transformation projects for thousands of businesses in vital areas such as finance – banking, real estate, SMEs, manufacturing… The group's digital transformation solution is effective and suitable for SMEs group, due to the cooperation with the corporate governance platform Base.vn in 2021. The powerful synergy creates a new impulse, accelerates the digital transformation of 800.000 domestic businesses and considerably contributes to digital economy. 
Commenting on the message of synergies for digital transformation, Mr. Truong Gia Binh – Chairman of FPT Corporation said: "National digital transformation is successful only when each locality and enterprise succeeds. Each city, locality and business need to find out a digital transformation leader who aspires to change, inspires, and promotes synergies so that all organizations and individuals can grow together, create together and act together".
Breakthrough digital transformation technology ecosystem
The results of FPT's synergy not only increase the level of digital transformation, but also ensure the Vietnamese technology product ecosystem. The proof of FPT's journey to affirm the intelligence is the comprehensive Made-by-FPT digital transformation ecosystem, including more than 100 platforms, solutions, products and services developed based on core technologies including AI, Blockchain, Cloud, IoT and Lowcode. The Government, leading domestic enterprises and international enterprises of the Fortune Global 500 group are applying a series of products and solutions of this ecosystem.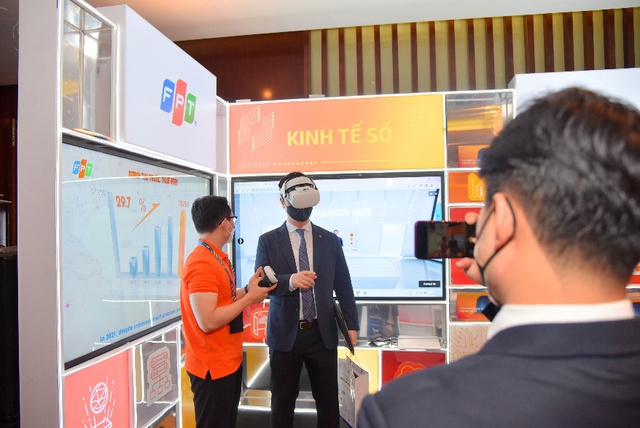 The akaVerse solution gains the prominence and impression of the delegates. This enhances customer experience through advanced imaging technologies such as 3D, VR/AR… akaVerse not only helps change the way businesses and customers interact with each other in the virtualization trend of the world (Metaverse) but also solve the problem of physical limitations in real life, helping customers have unique experiences, businesses increase the purchase rate.
Besides, comprehensive artificial intelligence base FPT.AI helps businesses optimize the operation and improve the customers' experiences. FPT.AI provides 3 main product groups: Conversational AI, Intelligent Document Processing and Electronic Know Your Customer (eKYC).
In digital government, FPT brings Binh Dinh Intelligent Operations Center a solution set up based on Ministry of Information and Communications' s standard and guidance with 8 key services.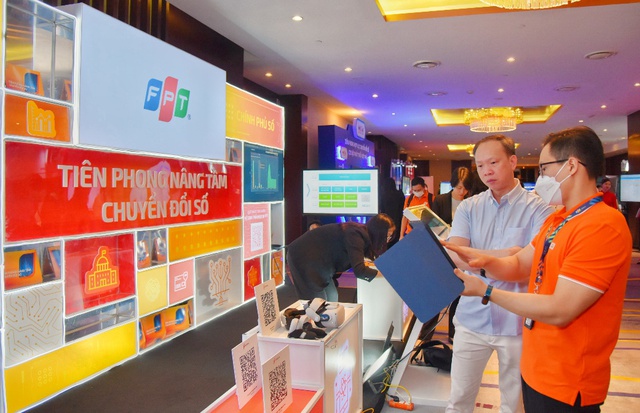 With the message "Synergy to elevate digital transformation, for a powerful Vietnam", the group also takes part in sharing experiences, initiatives and solutions for digital transformation besides demonstrating breakthrough technology solutions and platforms.
FPT Software, FPT Digital, FPT Smart Cloud, FPT IS introduce both comprehensive and specialized digital transformation solutions for businesses in key fields such as real estate – construction, finance – banking or regulation from global corporations to small and medium sized companies…
According to Mr. Le Vu Minh – Director of FPT Digital Innovation and Strategy Consulting, if the 2020-2021 period is considered the starting year of digital transformation in Vietnam, 2022 will be the time when localities and organizations and enterprises make breakthroughs with three supports: the support of the Government, the willingness of the Market and the popularity of Technology.
Through attending DX Summit 2022, FPT reaffirmed its commitment to be ready to accompany all the best resources, providing the most comprehensive and effective digital transformation ecosystem for the Government, authorities of provinces and cities, businesses and citizens. The main goal is to raise the quality level of digital transformation of the country, which make a contribution to building a powerful Vietnam.
Anh Duong
Economic life