Thanks to the achievements and takings far exceeded all original plans, Mr. Bui Minh Tien has received two most prestigious awards named Miss FPT Smart Cloud and Top 100 FPT in 2022. Though 11-year dedication at FPT, he is still bubbling over with passionate enthusiasm. He instantly came up with a strategy for 2023 with his colleagues, with the aim of making a breakthrough in trillions of sales in a challenging year. 
2022 is a year of numerous ups and downs when the impact of the COVID-19 pandemic worsen the inflation situation. The psychology and behavior of clients are constantly changing, making it challenging to approach them effectively. Mr. Bui Minh Tien always believes that doing business, especially in the Technology field, requires a detailed long-term plan with a vision of being ahead of the market. Therefore, he focuses on building and designing an extended business foundation for Cloud, training skilled resources, guiding the team to develop and readily create breakthroughs.
He shared that the biggest accomplishment in 2022 is to witness the significant growth in both quality and quantity of employees. Seasoned staff, who have "battled" in the competitive market and worked for large companies and corporations in Vietnam, decided to join FPT Smart Cloud. This is a solid premise for Cloud Business Center to accelerate and conquer difficult goals. 
When it comes to customers, he always thinks that "deeply understanding customers and becoming a reliable companion" is the guideline to all "billion-dollar deals". The meticulousness, dedication and enthusiasm in work has helped Mr. Bui Minh Tien and his teammates achieve 100% of signed sales. By 2022, FPT Cloud will have grown by three times and become the most impressive growth service segment of FPT Smart Cloud.
Regarding Mr. Bui Minh Tien, the story of job changing is always an inspirational story about turning points in his life and efforts to make the choice come true. Little do people know that before taking the position of Director of the Business Center, Mr. Bui Minh Tien used to have professional expertise in the Engineering field and worked as a system engineer as well as carried out in-depth research on data storage arrays, cloud computing.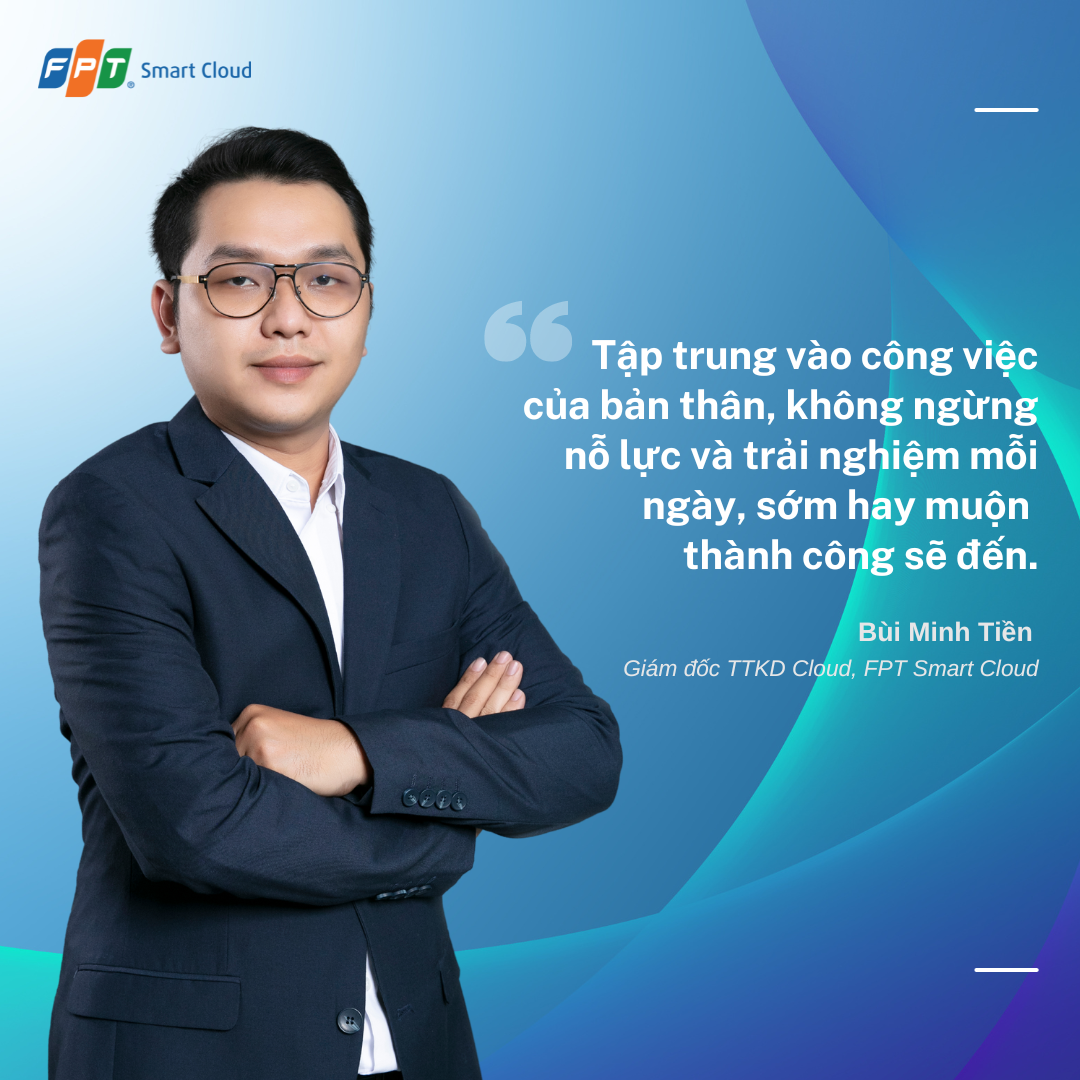 This decision was initially met with resistance from many people. He was advised to continue his career with his existing technical knowledge and background. However, Mr. Bui Minh Tien turned to Business, because he thought that an expert in a field needs to understand all the surrounding aspects to develop products and keep improving oneself. 
Having no experience in the business field, including meeting and persuading customers, he just owned knowledge of technology together with strong will, passion and excitement. He actively observed, learned from colleagues, worked hard and had self experiences. "Pay attention to work, constantly strive and study every day, success will come sooner or later." shared Mr. Bui Minh Tien. 
Colleagues always express their respect and trust in Mr. Bui Minh Tien as a coworker, a brother and a calm, mature but also funny and cheerful boss. Mr. Nguyen Khoa has given this cherished co-partner his whole faith and pride, saying that "Young people will succeed if they can learn from the way Mr. Tien handles the business and work." 
"Mr. Tien consistently spends 100% of his energy on pursuing the goals and creating new things. His positive attitude is a strong motivation for everyone, including me. Though taking up a key position, Mr. Tien is still friendly and humble. It would be my pleasure to work with such a passionate, sincere, reliable person. When thinking about a three-fold aim, he feels so bloody and trouble-free." – Mr. La Huu Phuoc shared.
"During 8 years working together, Mr. Tien has demonstrated various valuable knowledge and experience and helped me in developing my career rapidly and effectively. He is not only a master in his field, but also capable of imparting and guiding others to enhance their skills and competencies. This helps me feel more confident in my work, thereby continuously learning and self-developing.", said Mr. Tran Huy Vu.