FPT Smart Cloud has expressed its appreciation to the tremendous efforts of individuals by sending surprisingly meaningful thank-you cards, which is a part of an explosive event series to celebrate the "Happy 3rd" birthday. Numerous 3D cards containing personalized messages have given FCI people unforgettable feelings.
Each card consists of a separate message about the working days at FPT Smart Cloud and the dedication at work, which helps to bring back memorable memories of each FCIer. Meanwhile, the card not only brings a chance to convey the words of love to FPT Smart Cloud's employees, but also creates a variety of emotions from surprise, excitement to emotion. FPT Smart Cloud took advantage of AI technology to make a special card which is read by an inspiring voice of the "virtual assistant" Ban Mai.
"I am quite surprised by the personalized message. After receiving the card, I immediately share it on my personal FB page and brag about it to my teammates." – Mrs. Trinh Thi Thanh Hai, Director of the AI Business Center shared.
"The thank-you card is like a significant gift for employees. This makes me feel totally amazed because I have presents on the company's birthday." – Mr. Do Hoang Tu, a staff of the AI Product Division said.
He added: "Not only on birthdays, but the company also pays attention to the daily life and working environment of employees. He used to think that working at a technology company would be so boring and he had to spend all day at the coding desk. In contrast, I always look forward to going to work because of many engaging activities."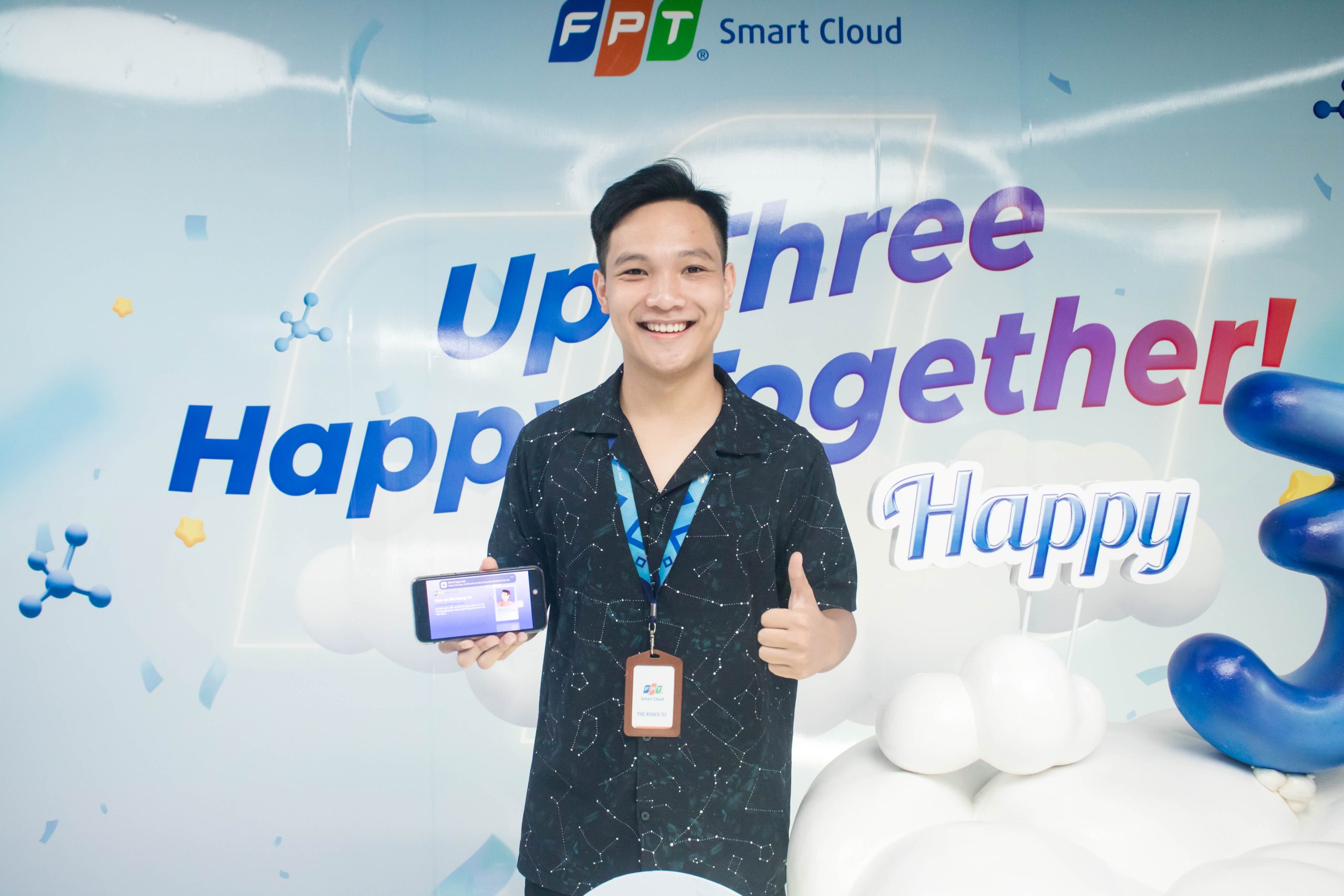 Each gratitude card not only sends deep thanks, but also creates a positive, proud and happy atmosphere for every FCIer. The "Happy 3" program with "Up Three, Happy Together" has established the goal that every minute of working at FCI, the staff would be content and fully embody their principles.
In addition to personalized thank-you cards, the Happy 3 event series at FPT Smart Cloud with explosive activities such as Happy Olympic, Happy Hackathon, Happy Moment takes place in the North and South. This has brought many emotions and memories  for every member of FPT Smart Cloud.
Huu Ngan